Jennie Wyse Power (01/05/1858 - 05/01/1941)
Source: Irish Times
Aged 47 at the time of 1911 Census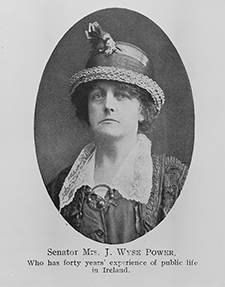 Photo: Jennie Wyse Power
Address: 21, Henry St. (North City, Dublin)1
Jennie's age on the 1911 Census is recorded as 47 years old, but other sources (such as the Houses of the Oireachtas) state that she was born in 1858 which would mean that she was 53 in 1911. The return is filled out by Jennie's husband, Séaghan, but perhaps he got his wife's age incorrect. The Census return is filled out in Irish. Her daughter Máire aged 20 is recorded as having a BA. Another daughter Aine, aged 21, is recorded as is her son Charles Stewart and Cathal mc Seáin who was aged 12.
http://www.census.nationalarchives.ie/pages/1911/Dublin/North_City/Henry_St_/50849/
http://www.census.nationalarchives.ie/reels/nai000086476/
Jane O'Toole or Jennie was an Irish nationalist and feminist from Wicklow, the youngest of seven children. Her family were strong Nationalists and supported the Fenians. She grew up in Dublin where her father had a shop. She joined the Ladies Land League and was good friends with Anna Parnell sister of Charles Stuart Parnell. In 1883 she married John Wyse Power, a journalist, and in 1885 they moved to Dublin when John got a job with the Freeman's Journal, a national paper. Jennie was a member of the Dublin Women's Suffrage Association. She set up her own business at 21, Henry Street selling farm produce and opened a restaurant there. This restaurant became a meeting place for prominent Irish insurgents. She became involved in Inghinidhe na hÉireann and also Sinn Féin.
The Gaelic League was an organisation set up to promote Irish language and culture. An organisation that sprang directly from the Gaelic League in the early 1900's was the Irish Industrial Development Assciation. The first branch was founded in Cork and another branch later opened in Dublin. Mrs. Wyse Power was the first secretary of this branch. It's purpose was to encourage the use of Irish manufacturing and support Irish industry.
In 1914 she was a founder member of Cumann na mBan. The signing of the Proclamation took place at her house in Henry Street and the house was subsequently destroyed by fire during the Easter Rising. She was pro-treaty and became a Cumman na nGaedheal senator in 1922, one of four women appointed to the first Seanad. She broke from the party in 1925 and became an independent senator. In 1925 Senator Wyse Power objected to the Juries Act on Constitutional grounds. This Act sought to prevent women serving on juries. She argued that the Act was against the rights guaranteed to women in the 1922 Constitution first endorsed by the Irish Proclamation, to be equal citizens. She continued to speak out against economic and gender regressive discrimination of women in legislation of the 1920's and 1930's. She was a persistent and determined champion of equality for women dealing with issues such as homeless children and the poor. She died aged 82 in 1941 and is buried in Glasnevin Cemetery.
Member of the Oireachtas
http://www.oireachtas.ie/members/default.asp?housetype=1&HouseNum=1922&MemberID=1723&ConstID=214
Source:
Go to Julia Grennan