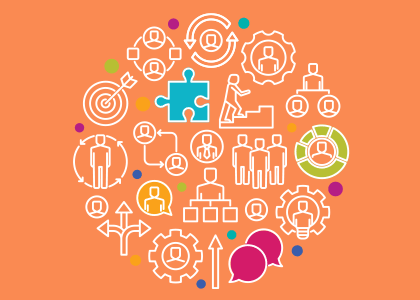 Play your part in shaping Ireland's future
The CSO offers a rewarding and competitive career in a dynamic, innovative and inclusive work place.
We promote a culture of staff engagement, innovation and well-being.
Learn more about the benefits and opportunities of working at Ireland's national statistical office.
Our Organisation
The Central Statistics Office (CSO) is Ireland's national statistical office and our purpose is to impartially collect, analyse and make available statistics about Ireland's people, society and economy. The surveys we carry out and the publications we produce are a public good and are an essential part of creating an informed society for the people of Ireland. Our mission is to provide independent insight for all.
Our vision is to continue to provide relevant, accurate and high-quality information to society while operating in a dynamic global environment. To meet this vision, we constantly strive for innovation, agility and to build the capacity of our people and systems.
We have much to offer and we invite new joiners to contribute to our unique culture while enjoying a fulfilling role working in the public interest with the CSO.
Your CSO Career Development
The CSO has employees based at our offices in Cork and Dublin, and located throughout the country as part of our field staff. We offer our workforce a rewarding, competitve career at a flexible, caring and inclusive workplace. We promote a culture of staff engagement, innovation and well-being.
We value our people and that's why we offer the following
flexible working arrangements
a progressive Blended Working Policy
career progression
extensive leave policies
a comprehensive Well-being programme
sports and social clubs
charitable activities that we support
and many other benefits
Learning and Development
It is important to us that all our people have opportunities to develop professionally and personally. At the Central Statistics Office, everyone is encouraged to explore all of the options and opportunities that we offer. One of the ways we support our people is through our Learning and Development Programmes which empower our staff to grow and enhance their skills through a wide range of training options.
As an organisation, the CSO has been careful to nurture a culture of promoting the continuous personal and professional development of every team member. This means that we will help you and your career to grow through coaching/mentoring for new staff, a buddy system for new staff, professional development courses to help you to continuously upskill and we support and sponsor staff who are pursuing recognised professional qualifications. You can receive paid study leave and exam leave as we actively encourage staff to undertake further education to develop your career in the CSO.
Recruitment
We recruit directly for specialised roles including Statisticians / Data Analysts, a range of ICT roles and our Field Staff. General Civil Service roles are usually recruited through the Public Appointments Service (PAS).