Thomas MacDonagh
Aged 33 at the time of the 1911 Census
Born: 1 February 1878
Executed: 3 May 1916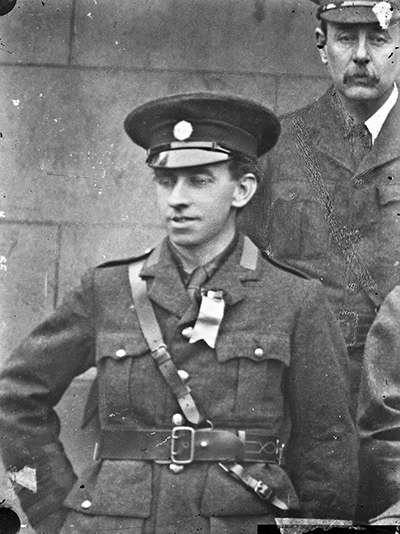 Photo: Thomas MacDonagh
Census 1911 Address: 12, Haroldsgrange (Whitechurch, Dublin)1
The 1911 Census return recorded Thomas's birthplace as Cloughgordar, Co Tipperary, his occupation was recorded as a poet and teacher, (with a B.A from the National University), his marital status was single and he stated that he was proficient in English and Irish.
http://www.census.nationalarchives.ie/pages/1911/Dublin/Whitechurch/Haroldsgrange_/57846/
http://www.census.nationalarchives.ie/reels/nai000133834/
Thomas MacDonagh was born in Tipperary in 1878, the son of two teachers. He was educated at Rockwell College in Tipperary where he studied for the priesthood but he left after a few years when he realised that he didn't have a vocation. He taught in Kilkenny and Fermoy, Co. Cork. MacDonagh was one of the founding members of the ASTI, the secondary teachers association, which was formed in Fermoy College in 1908. Thomas met Pádraig Pearse in the Aran Islands while on a visit there to improve his Irish. His friendship with Pearse and love of Irish led him to join the staff of Pearse's bilingual school, St. Enda's, upon its establishment in 1908, taking the roles of French and English teacher and Assistant Headmaster. He also had a position as a lecturer in the English Department of University College, Dublin. In addition, McDonagh wrote a number of plays and poems. He was involved with the theatre and was friends with Joseph Mary Plunkett.
On the political front, MacDonagh was also very active. He was a member of the Irish Women's Franchise League set up by Francis and Hanna Sheehy-Skeffington in 1908. Thomas MacDonagh married Muriel Gifford in 1912 (the year after the Census) and they went on to have two children - Donagh and Barbara. Muriel was the older sister of Grace Gifford who later married Joseph Mary Plunkett on the eve of his execution. Thomas joined the Irish Volunteers on their inception in 1913 and was appointed director of training of the Irish Volunteers in 1914. MacDonagh played an important role in the gun running at Howth when arms and ammunition were smuggled from Germany. While making their way back to Dublin after receiving the arms the Volunteers met a group of RIC and Dublin Metropolitan police. MacDonagh started an argument with the assistant commissioner of the police and during this argument the rest of the Volunteers got away. MacDonagh joined the IRB in 1915 and was co-opted onto the Military Council in 1916.
Thomas gave lectures before the Rising on armoury, target shooting and other strategies. Oscar Traynor recalled in his witness statement that Thomas said " …that the volunteers would eventually go into action, that they would appear to be defeated, but that they would rally again and have another fight in which they would be more successful, but not still fully successful. He said that in the course of this fight they would have their Army recognised, and that in a third great effort the Irish people would be freed. This also made a very deep impression on my mind, although at the time I felt that there could be little in it. However, as events turned out, his forecast now appears to be fully justified.2
MacDonagh acted as an intermediary between the Military Council and Eoin MacNeill, his colleague at University College Dublin, who was opposed to rebellion unless there was a danger of an imminent British attack. When the German shipment of arms from the Aud fell through, Eoin MacNeill issued a countermanding order cancelling the rebellion planned for Easter Sunday. MacDonagh called to MacNeill to deliver Pearse's agreement to the cancellation. Pearse and the inner circle of the Military Council however decided to proceed with the rebellion on Easter Monday, 24 April 1916.
MacDonagh, together with Pearse and Connolly, contributed to the feminist and egalitarian ideals of the Proclamation. MacDonagh was commander of the Second Battalion of the Volunteers that occupied Jacob's biscuit factory and surrounding houses during the Rising. MacDonagh had 150 men, less than half of what it was planned he would have, (due to MacNeill's countermanding order). This meant that MacDonagh had to forgo plans to take Trinity College and concentrate on seizing Jacobs and the surrounding area. The factory had strategic importance due to its proximity to Dublin Castle and the barracks at Richmond and Portobello. Rebel possession of the factory would hinder British Army movement from the South. The Boer War veteran Fenian John MacBride joined him as second-in-command. The battalion at Jacob's factory saw little action on the day of the Rising. MacDonagh did not have military experience and, although he was well-liked and respected, his orders were indecisive and therefore the more experienced MacBride assumed a more commanding role.
Following the surrender MacDonagh spoke to his men, "We are about to (surrender) but we have succeeded in establishing the Irish Republic according to international law by holding out for a week. Although I have assurance from his reverence here that nobody will be shot, I know I will be shot, but you men will be treated as prisoners3".
While in Richmond Barracks, according to a Witness Statement from James J. Burke "Thomas MacDonagh told me to plead ignorance about the Rising, the idea being, to my mind at any rate, that he and the other leaders were anxious that we would not give the British an opportunity to "do in" too many of us. It was a safeguard for the future as well4." Even towards the end MacDonagh showed concern for his men.
Thomas MacDonagh was tried by court-martial and executed on 3rd May 1916 – the same day as Grace Gifford's and Joseph Plunkett's wedding. He was the first of the leaders to be tried and executed. The British officer in command expressed his admiration remarking that all the leaders died nobly, but MacDonagh died like a prince. In his last letter to his wife, MacDonagh stated that he had had only one motive, to make the country that he loved an independent sovereign state. He said that he was to die at dawn, but was ready to do so in the name of a cause he felt holy and he believed that his country would reward his deed richly. His one regret, according to the letter to his wife, was that he would be parted from his wife and children; he said that he felt he had spent too much time on his nationalist cause and not enough on making sure that they would be financially secure. He wrote that he hoped that they would be looked after by his country.
Photo: Family portrait of Thomas Maconagh and his wife Muriel
Following MacDonagh's death, his widow and children were distraught and in financial difficulties. In his will Thomas MacDonagh left his wife Muriel £3855. They were supported by the MacDonagh family, and various charitable organisations. Muriel became involved in the Irish National Aid and Development Fund. This organisation secured a rental property by the seaside for families of those executed. Tragically Muriel drowned in July 1917 when swimming with her daughter6. Donagh and Barbara MacDonagh became the subject of a series of custody battles between the MacDonagh and Gifford families, mainly over the issue of their religion. The MacDonagh family were Catholic and the Gifford family were Church of Ireland although both Muriel and her sister Grace converted to Catholicism after their marriages. The MacDonagh family eventually obtained custody of Donagh and Barbara who lived briefly with their paternal aunt Eleanor Bingham in County Clare before being put into the custody of strangers until their late teens, when they were taken in by Jack MacDonagh, their uncle7.
The Thomas MacDonagh Heritage Centre in Cloughjordan, Co. Tipperary was opened in 2013 and the train station in Kilkenny (MacDonagh Station) is named for him.
Photo: British Army notice on the executions of Pádraig Pearse, Thomas Macdonagh and Thomas Clarke on 3 May 1916
Sources:
References:
http://www.tcd.ie/Library/1916/coming-into-his-force/
http://www.macdonaghheritage.ie/thomas-macdonagh/
Bureau of Military History Witness Statement: Rev. Fr. Aloysius, O.F.M. Cap., Capuchin Friary, Church St., Dublin. Chaplain to the Irish Volunteer Leaders, 1916
Go to Éamonn Ceannt