Open in Excel:
‌
Figure 16.9 Irish MNEs abroad and foreign MNEs in Ireland, 2017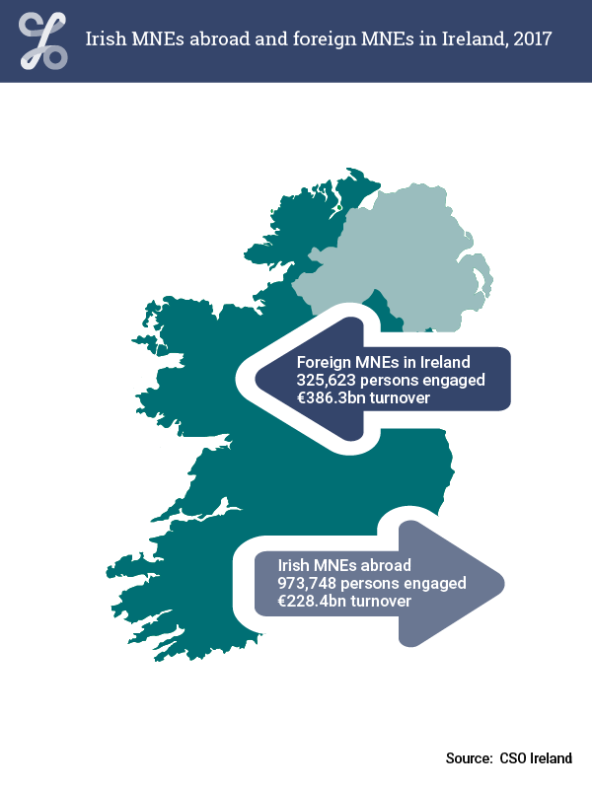 Foreign multinationals in Ireland employed 325,623 persons and generated €386.3 billion in turnover.
Foreign-owned enterprises accounted for 57.9% of total turnover and 62.2% of total GVA in the Irish business economy
Services which includes Distribution accounted for 79.7% of employment in Irish-owned affiliates abroad.
The average turnover per person engaged in Irish-owned foreign affiliates was €234.6k.
Turnover per person engaged in Irish-owned foreign affiliates was lowest in Services.
Link to publication: Business in Ireland
Figure 16.10 Employment in Irish affilates abroad 2017
In 2017, Irish multinationals abroad had turnover in excess of €228.4 billion, with US and UK affiliates accounting for 57.1% of this. There were nearly 974,000 persons employed in Irish multinationals abroad, 34.6% of whom were in the US and the UK.
In terms of employment by continent, Europe, Asia and the Americas each accounted for approximately a third of the total, with employment in the remaining regions amounting to 2.5%.
Interactive tables: Statbank