CSO statistical release
, , 11am
Information Society Statistics - Households
2018
89% of households have access to the internet at home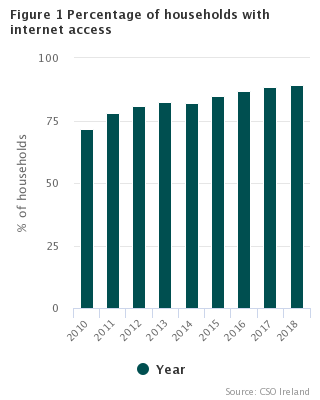 go to full release
Summary of main findings:
It is estimated that, in 2018, 89% of households have access to the internet at home. See table 1a and figure 1.
The main reasons stated for not having a household internet connection were Do not need internet (40%) and Lack of skills (30%). See table 1c.
In 2018, 82% of individuals used the internet in the three months prior to interview. See table 2a.
Finding information on goods and services (88%) was the most common activity carried out on the internet by individuals. The next most common activities selected were E-mail (84%), followed by Social networking and Reading or downloading online news, both at 73%. See table 3a.
The most common types of goods or services purchased by internet users were Clothes or sports goods (50%). The next most common types of internet purchases were Holiday accommodation (44%) and Other travel arrangements (41%). See table 4a.
Almost half (49%) of internet users stated that they used storage space on the internet to store files electronically. See table 5.
Most internet users (90%) have a smartphone for private purposes. See table 9a.