CSO statistical release
, , 11am
International Trade in Services
2020
Service deficit of €62bn in 2020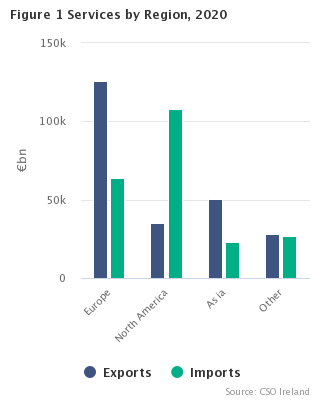 go to full release
Total service exports increased by €13.9bn from €230.2bn in 2019 to €244.1bn in 2020. Total service imports decreased by €29.7bn from €335.7bn in 2019 to €306bn in 2020. The increase in service exports was principally due to increased computer service exports (+€15.7bn) while the decrease in service imports was predominantly due to decreased R&D service imports related to Intellectual Property (IP) (-€36.6bn). As a result, the service deficit moved from €105.6bn in 2019 to €61.9bn in 2020. US, UK, Germany and the Netherlands remain Ireland's most significant trading partners.
Computer services exports at €134.2bn remains the largest export category and accounted for 55 per cent of total service exports in 2020. R&D service imports, at €104.2bn, along with Royalties/Licences imports at €84.4bn, were the largest import categories. When combined, these two import categories accounted for 61.6 per cent of total service imports in 2020 (see Table 1).
This map is © Ordnance Survey Ireland. All rights reserved. License number 01/05/001.
Service exports to Europe (€126bn) increased by €10bn between 2019 and 2020 due mainly to increased Computer service exports (+€11.8bn). The increased Computer service exports were predominantly to the UK (+€2.3bn), Germany (+€1.6bn), Italy (+€0.5bn) and France (+€0.5bn). (see Tables 2a & 2b).
Service exports to the US (€33bn) decreased by €2.8bn in the same period, mainly in Other Business services (-€2.3bn). Service exports to Japan (€10.1bn) increased by €1.7bn.
This map is © Ordnance Survey Ireland. All rights reserved. License number 01/05/001.
Services imports from Europe (€63.8bn) decreased by €27.2bn between 2019 and 2020 mainly due to decreased Royalties/Licences imports (-€22.5bn) and Tourism and Travel imports (-€3.6bn). Service imports from Netherlands, Switzerland, Spain and UK decreased by €21bn, €1.4bn, €1.1bn. and €1bn respectively.
In the same period, service imports from Offshore centres (€96.1bn) decrease by €50bn mainly due to decreased R&D imports (-€32.9bn) and decreased Royalty imports (-€18.4bn) while imports from the US (€107.6bn) increased by €48.2bn due to increased Royalty imports.
| | |
| --- | --- |
| | 2020 |
| Luxembourg | 309.9 |
| Malta | 217.8 |
| Ireland | 147.6 |
| Belgium | 46.2 |
| Denmark | 41.6 |
| Netherlands | 37.5 |
| Switzerland | 30.7 |
| Austria | 27.9 |
| Hungary | 25.6 |
| European Union - 27 | 24.7 |
| Portugal | 17.7 |
| France | 16.5 |
| Germany | 16.1 |
| Spain | 11.8 |
| Italy | 9.5 |
Show Background Notes
Background Notes
The International Trade in Services provides, on an annual basis, greater analysis of the service components and significantly more geographical detail, including a cross-classification of service components according to counterpart country/region. The data are collected and compiled within the BOP framework and as such are designed to comply in so far as possible with the stipulated international methodological standards. They also conform closely with international presentation formats taking materiality and relevance into account as well as data confidentiality constraints. The results published in this release are generally compatible with the information supplied to and published by Eurostat and the European Central Bank (ECB) concerning the economic activities of EU and EMU residents with non-residents of these areas. The figures are also compatible with those supplied to other international organisations such as IMF and OECD.
For more detailed methodological information see International Trade in Services - Background Notes ( updated October 2017) (PDF 130KB)
Hide Background Notes
Scan the QR code below to view this release online or go to
http://www.cso.ie/en/releasesandpublications/er/its/internationaltradeinservices2020/