Open in Excel:
Methodological notes on Census 2016 homeless count
Background
CSO carried out a count of homeless persons as part of Census 2016 (April 24 2016).
As in 2011, the approach for conducting the homeless count was to identify establishments where homeless persons were staying on Census night. In 2011 the list of establishments was compiled mainly from a list of accommodation and establishments being funded by the State, supplemented by CSO's own contacts with NGOs providing voluntary homeless accommodation.
Between 2011 and 2016 the extent of homelessness and the variety of approaches being used to accommodate homeless persons has increased. This served to heighten the complexity of conducting the homeless count. Significantly, there was increased reliance on the use of commercial hotels for accommodating adults with child dependents in lieu of access to established temporary emergency accommodation for homeless persons.
The methodology used to identify a person as homeless for the purposes of this report was agreed in advance at a meeting of the Census Homeless Methodology Liaison Group, held on January 8 2015. The meeting was attended by major stakeholders involved in providing services to the homeless. The membership of the Census Homeless Methodology Liaison Group was drawn from the following organisations:
Focus Ireland
Simon Communities of Ireland
St Vincent De Paul
DePaul Ireland
Peter McVerry Trust
National Institute for Regional and Spatial Analysis (NIRSA NUI Maynooth)
Cork City Council
Westmeath County Council
Sophia
School of Social Work and Social Policy, Trinity College
Dublin Region Homeless Executive
Department of Housing, Planning and Local Government
Central Statistics Office
At that meeting it was agreed that persons would be classified as being homeless on the basis of where they spent Census Night, as opposed to some element of self-identification, such as responding to a specific question on the census form. This is the same approach used to enumerate homeless persons in Census 2011.
It was also agreed that DHPLG, local authorities and agencies working with the homeless would provide CSO with lists of accommodation which were designated as providing shelter for homeless persons. To facilitate this approach, the Pathway Accommodation and Support System (PASS) was utilized to help identify these establishments. PASS is the national client management data system hosted by the DRHE (National PASS Office) on behalf of the Department and all housing authorities. All Ireland's local authorities use PASS on a daily basis as the data system that supports interactions with persons using homeless services in their locality. Each local authority is organized into one of nine regions and each region has a lead local authority responsible for the maintenance of good quality data in the PASS system and the production of anonymized reports to the DHPLG under a national reporting template.
The DRHE assisted CSO with the enumeration of persons sleeping rough in the Dublin area on Census Night.
Identification of accommodation for the homeless
Properties identified as providing accommodation for the homeless and included in this publication, fall into one of three categories:
Accommodation identified by the PASS (Department of Housing, Planning and Local Government and the National PASS Office).
Accommodation identified by agencies/service providers involved in providing support to homeless people.
Accommodation was identified to the CSO for inclusion in the homeless count by the following 51 agencies: Adapt, Aids Fund Housing Project, Aiseiri Rehabilitation Centres, ALONE, ANEW, Aoibhneas, Art Housing Association, Associated Charities Trust, Bergerie Trust, Bessborough Centre, Castleblaney Trust, Clare Haven Services, COPE Galway, Crosscare, Cuan Mhuire, Daisyhouse Housing Association, DePaul Ireland, Don Bosco Care, Drogheda Homeless Aid, Dundalk Womens Aid, Ecclesville, Finisklin Housing Association, Focus Ireland, Good Shepherd, Intensive Family Support, Iveagh Trust, Legion of Mary, Merchant's Quay Ireland, Missionaries of Charity, Novas, Oasis Housing Association, ONET, Pace, Peter McVerry Trust, Respond Housing Association, The Salvation Army, Saoirse Housing, Simon Communities of Ireland, Sisters of Charity, Society of St Vincent de Paul, Sonas, Sophia, St James Camino Network, Stepping Stone, Temporary Emergency Accommodation Mullingar (TEAM), Thurles Lions Trust Housing Association, Tiglin Challenge, Tintean Housing, Tullamore Housing Association, Tusla, Vergement Housing Fellowship.
Accommodation identified by CSO
The accommodation was not on any predesignated list but was identified by the manager of the communal establishment during the field operation by ticking box 7 'Shelter or refuge (including accommodation for homeless persons)' for question E1 What is the type of the establishment? on the Census Listing Form.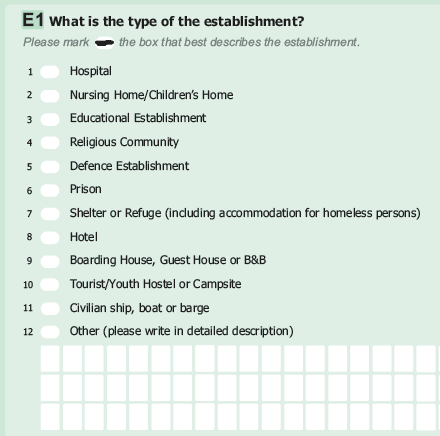 Census Field Operation
In advance of the census field operation, all enumerators and their field managers were informed of the list of properties that fell within their specific area and were given special instructions regarding the enumeration of these establishments. These instructions emphasised the importance of correctly identifying each establishment and their prioritisation during the collection phase, and the special treatment of families in these units.
Family units
Relationships between family members are not normally captured for persons in communal establishments as part of the Irish census. In order to record family details for related persons in homeless accommodation, Household Forms were issued to family units staying in designated establishments. A family is defined for census purposes as one or both parents with their children, married couples or partners living together.
Private Emergency Accommodation (PEA) in Dublin
There has been increased use of Private Emergency Accommodation (PEAs, namely hotels and guesthouses) in recent years to accommodate homeless persons and in particular families in Dublin.
The CSO was highly conscious of the sensitivity around this issue and the importance of protecting the confidentiality of the information of all those involved in this situation. In conjunction with the DRHE, three dedicated enumerators were employed to deal exclusively with enumerating homeless families residing in such PEAs in the Dublin area.
Long Term Accommodation (LTA)
The Census Homeless Methodology Liaison Group agreed, in advance of the Census field operation, that persons in Long Term Accommodation (LTA) would not be included in the main results in this report. The rationale behind this decision was that although these long-term residents may require a certain level of support, they are for the most part considered tenants (although some have license arrangements) and therefore should not be included in the homeless population count. This differed from 2011 when this group was included in the main result.
Census 2016 recorded 1,772 individuals in LTAs on Census Night. In 2011 the figure for long term homelessness was 992.
Enumeration of persons sleeping rough
A count of rough sleepers also took place on the night of the Census. The following local authorities, in conjunction with the CSO, conducted rough sleeper counts:
Dublin City Council
Dun Laoghaire Rathdown County Council
Fingal County Council
South Dublin County Council
Cork City Council
Limerick City and County Council
Waterford City and County Council
Louth County Council
Sligo County Council
The DRHE was responsible for the delivery of rough sleeper counts in Dublin. It has developed an extensive methodological approach that is tried and tested (rough sleeper counts have been conducted in Dublin each spring and winter since 2007). It advised the participating local authorities outside Dublin on the agreed methodology to ensure consistency across these local authorities when enumerating rough sleepers. The DRHE continued to support these local authorities in their preparation ahead of Census Night. CSO staff also volunteered as part of the rough sleeper counts in Dublin and Cork.
For areas not covered by the above authorities, the Census field staff enumerated the rough sleepers with the assistance of local Gardaí and/or local homeless agencies.
CSO wishes to express its thanks to the DRHE and all local authorities for assisting the CSO in this work.
Presentation and analysis of the results
Marital status and principal economic status
As key census variables, both marital status and principal economic status are imputed in the Irish census for non-response, using distributions found in the general population. As the distributions for the general population differ from those for the homeless population, imputed values are not included for these variables in this report and accordingly the results include an element of non–response.
Geography
Regional Homelessness Action Plans were adopted in 2010 by the 34 City and County Councils under the Housing (Miscellaneous Provisions) Act 2009.
The regions agree with Regional Authority areas with the exception of the Border region which is split into two – the North East and North West.
The lead Local Authority in each region is in bold.
North East: Louth, Cavan, Monaghan
Dublin: Dublin City, Dún Laoghaire-Rathdown, Fingal, South Dublin
Mid East: Kildare, Meath, Wicklow
South East: Waterford, Carlow, Kilkenny, South Tipperary, Wexford
South West: Cork City, Cork County, Kerry
Mid West: Limerick, Clare, North Tipperary
Midland: Westmeath, Laois, Longford, Offaly
West: Galway City, Galway County, Mayo, Roscommon
North West: Sligo, Donegal, Leitrim
ETHOS Typology of homelessness and housing exclusion
Definition of homelessness
A European descriptive typology (ETHOS) has been developed as a research tool to provide a way of structuring research on homelessness so that valid comparisons can be made across European countries. Within this typology are four conceptual categories of homeless persons, namely roofless, homeless, insecure and inadequate. See table at the end of the 'Background notes'.
For the purposes of this report, homeless persons have been identified by where they spent Census Night i.e. the definition is based on the accommodation type rather than on the individual person.
Only operational categories 1, 2, 3, and 4 detailed below within the 'Roofless' and 'Houseless' conceptual categories have been enumerated as part of the Census 2016 homeless count.
Conceptual category

Operational category

Living Situation

Roofless

1 People living rough

1.1 Public space or external space

2 People in emergency accommodation

2.1 Night shelter

Houseless

3 People in accommodation for the homeless

3.1 Homeless hostel

3.2 Temporary accommodation

3.3 Transitional and supported accommodation

4 People in Women's Shelters

4.1 Women's shelter accommodation

5 People in accommodation for immigrants

5.1 Temporary accommodation and reception centres

5.2 Migrant workers accommodation

6 People due to be released from institutions

6.1 Penal institutions

6.2 Medical institutions

6.3 Children's institutions and homes

7 People receiving longer term support (due to homelessness)

7.1 Residential care for older homeless people

7.2 Supported accommodation for formerly homeless people

Insecure

8 People living in insecure accommodation

8.1 Temporarily with family/friends

8.2 No legal (sub) tenancy

8.3 Illegal occupation of land

9 People living under threat of eviction

9.1 Legal orders enforced (rented)

9.2 Legal orders enforced (owned)

10 People living under threat of violence

10.1 Police recorded incident

Inadequate

11 People living in temporary/non-conventional structures

11.1 Mobile homes

11.2 Non-conventional building

11.3 Temporary structure

12 People living in unfit housing

12.1 Occupied dwellings unfit for habitation

13 People living in extreme overcrowding

13.1 Highest national norm of overcrowding