Open in Excel:
Appendix 1
Background Notes
A Census of Population was taken on the night of Sunday, 24 April 2016, in accordance with the Statistics (Census of Population) Order 2015 (S.I. No. 445 of 2015)[1]. This Report provides the final results for the State as a whole for the following topics; age, marriage, households, families, usual residence, migration, nationality, foreign languages, ethnic or cultural background, the Irish language, religion and housing.
Coverage of the Census
The census figures relate to the de facto population i.e. the population recorded for each area represents the total of all persons present within its boundaries on the night of Sunday, 24 April 2016, together with all persons who arrived in that area on the morning of Monday, 25 April 2016, not having been enumerated elsewhere. Persons on board ships in port are included with the population of adjacent areas. The figures, therefore, include visitors present on Census Night as well as those in residence, while usual residents temporarily absent from the area are excluded.
De facto versus Usual Residence
The date of the census was chosen to coincide with a period when passenger movements were at a minimum and, consequently, the figures closely approximate to those for the normally resident population. The de facto measure of the population, referred to throughout this report, was 4,761,865 in April 2016 while the usually resident total was 4,689,921, a difference of 71,944 or 1.5%. The usually resident measure is used when analysing topics such as nationality and households and families.
Conduct of the Census
A temporary field force consisting of 6 Census Liaison Officers, 44 Regional Supervisors, 430 Field Supervisors and some 4,663 part-time Enumerators carried out the census enumeration. During the four weeks before Census Night the enumerators visited some 2 million private residences and delivered census questionnaires to 1.65 million of these dwellings as well as to 4,140 communal establishments capable of accommodating people (such as hotels, nursing homes, etc.,) that were expected to be occupied on Census Night. Approximately 290,000 residences were vacant at the time of the census, while in the remaining cases the household was either enumerated elsewhere or temporarily absent from the State. The collection of completed questionnaires took place between Monday 25 April and Sunday 22 May, 2016.
The Central Statistics Office (CSO) wishes to record its appreciation of the public-spirited co-operation received from households and the work carried out by the census field force.
Production of results
Each enumerator first prepared and returned to the CSO a summary of the population of his/her enumeration area. These summaries formed the basis for the Preliminary 2016 Census Results published in July 2016.
Link to Census 2016 Preliminary Results
The completed questionnaires for individual households were subsequently transported to the CSO for processing. The population summaries, dwelling listings and enumeration maps for individual enumeration areas were checked for consistency and used to determine the boundaries of census towns and suburbs. The capture and processing of the responses to questions on the questionnaires proceeded concurrently.
The planned publication schedule is contained in Appendix 4. Two summary reports will present highlight results primarily for the State; Census 2016 Summary Results - Part 1, looks at overall population change by county; it also examines age, marriage, households and families as well as including first results on nationality, foreign languages, the Irish language, religion and housing. The second summary report, Census 2016 Summary Results - Part 2, will look at other social and economic factors such as employment, occupations, education and skills as well as travel and health-related topics. A further ten profile reports will provide more detailed results on individual topics; the details are listed in the publication schedule.
Maps
All maps in this release are © Ordnance Survey Ireland. All rights reserved. License number 01/05/001.
[1] The Statistics (Census of Population) Order 2015 was made by the then Minister of State at the Department of the Taoiseach in pursuance of powers conferred on him by section 25 (1) of the Statistics Act 1993 (No. 21 of 1993) and the Statistics (Delegation of Ministerial Functions) Order 2011 ( S.I. No. 157 of 2011 ).
Further information
For further information contact:
Census Enquiries Section, Central Statistics Office, Swords Business Campus, Balheary Road, Swords, Co. Dublin
Eircode K67 D2X4
Phone (01) 8951460
LoCall 1890 236 787
Fax (01) 895 1399
E-mail census@cso.ie
Web www.cso.ie
Appendix 2 - Definitions
Private Household
A private household comprises either one person living alone or a group of people (not necessarily related) living at the same address with common housekeeping arrangements - that is, sharing at least one meal a day or sharing a living room or sitting room. In order to be included in the household, a person had to be a usual resident at the time of the census. Therefore, visitors to the household on Census Night were excluded, while usual residents temporarily absent (for less than 12 months) were included.
A permanent private household is a private household occupying a permanent dwelling such as a house, flat or bed-sit.
A temporary private household is a private household occupying a caravan, mobile home or other temporary dwelling.
Housing Stock
The housing stock is defined as the total number of permanent residential dwellings that were available for occupancy at the time of census enumeration. In this report, the housing stock consists of permanent private households (inhabited by both usual residents and visitors), holiday homes, vacant houses or apartments along with dwellings where all the occupants were temporarily absent on Census Night. However, communal establishments, temporary private households (e.g. caravans and mobile homes), along with dwellings categorised by the enumerators as being derelict, commercial only, or under construction are excluded from this definition.
Vacant Dwellings and Holiday Homes
In identifying vacant dwellings, enumerators were instructed to look for signs that the dwelling was not occupied e.g. no furniture, no cars outside, junk mail accumulating, overgrown garden etc., and to find out from neighbours whether it was vacant or not. It was not sufficient to classify a dwelling as vacant after one or two visits. Similar precautions were also taken before classifying holiday homes.
Holiday homes are categorised as dwellings that are only occasionally occupied. While they are mainly found in rural areas (particularly along the coastline), holiday homes could also consist of city apartments used for weekend breaks etc. Before indicating that a dwelling was a holiday home, enumerators were instructed to call to the dwelling several times prior to Census Night and at various call times. Enumerators were advised to consult with neighbours as to whether a dwelling was used as a holiday home.
When the enumerator had clear information that a dwelling was used as a holiday home the dwelling status was recorded as "Holiday home" in their enumerator record book (ERB).
Dwellings under construction and derelict properties were not included in the count of vacant dwellings. As a result the empty housing units were classified as vacant house, vacant apartment or holiday home only if the dwelling was considered fit for habitation by the enumerator. In the case of newly constructed dwellings, that meant that the roof, doors, windows or walls had to be completely built or installed. For older dwellings that were unoccupied the roof, doors and windows had to be fully intact.
Household Reference Person
The reference person in each private household is the first person in the household identified as a parent, spouse, cohabiting partner or head of a non-family household containing related persons. Where no person in the household satisfied these criteria, the first usually resident person was used as the reference person.
For the purposes of expressing the household reference person in simple terms for the reader, the terms head of household or householder are used instead of the household reference person in this report.
Size of Household
The number of persons in a household consists of the total number of persons usually resident there on the night of Sunday, 24 April 2016, including those absent from the household for less than twelve months. Visitors present in the household on census night are excluded.
Family Units
A family unit or nucleus is defined as:
(1) a husband and wife or a co-habiting couple; or
(2) a husband and wife or a co-habiting couple together with one or more usually resident never-married children (of any age); or
(3) one parent together with one or more usually resident never-married children (of any age).

Family members have to be usual residents of the relevant household.
The determination of household and family composition is based on responses to the question on the census form dealing with relationships within the household.
Urban and Rural Areas
The term Aggregate Town Area or Urban area refers to settlements with a total population of 1,500 or more. The term Aggregate Rural Area refers to the population outside Aggregate Town areas and includes the population of settlements with a population of less than 1,500 persons.
Historically census towns were defined as a cluster of fifty or more occupied dwellings where, within a radius of 800 metres, there was a nucleus of thirty occupied dwellings (on both sides of a road, or twenty on one side of a road), along with a clearly defined urban centre e.g. a shop, a school, a place of worship or a community centre. Census town boundaries were extended over time where there was an occupied dwelling within 200 metres of the existing boundary.
In 2011 the proximity criteria were tightened, in line with UN criteria. This was done in order to avoid the agglomeration of adjacent towns caused by the inclusion of low density one off dwellings on the approach routes to towns.
First introduced in 2011 therefore, and continuing for Census 2016, a new census town was defined as having a minimum of 50 occupied dwellings, with a maximum distance between any dwelling and the building closest to it of 100 metres, and where there was evidence of an urban centre (shop, school etc.). The 100m proximity rule was also applied when extending existing 2011 Census town boundaries.
Impact of Local Government Act 2014
All legal town boundaries were abolished under the Local Government Act 2014. Accordingly the population of these former legal towns have been newly defined using the standard census town criteria (with the 100m proximity rule). For some towns the impact of this has been to lose area, and population, compared with previous computations. Detailed results of population by area will be published in May of this year.
Under the Local Government Act 2014 the city and county administrative areas of Limerick, Waterford and Tipperary North and South were amalgamated. Census results will therefore be provided for 31 city and county administrative areas and not 34 as was previously the case.
Non-private Household (Communal Establishment)
A non-private household is a group of persons enumerated in a boarding house, hotel, guest house, hostel, barrack, hospital, nursing home, boarding school, religious institution, welfare institution, prison or ship. A non-private household may include usual residents and/or visitors. However, proprietors and managers of hotels, principals of boarding schools, persons in charge of various other types of institutions and members of staff who, with or without their families, occupy separate living accommodation on the premises are classified as private households.
Private Dwelling
A private dwelling is the room or set of rooms occupied by a private household in a permanent housing unit. There is thus a one to one correspondence between such private households and private dwellings and the numbers of these entities are the same in all instances.
Number of Rooms
The number of rooms occupied by a private household is the total number used by the household. This includes kitchens, living rooms, bedrooms, conservatories you can sit in and studies, but excluding bathrooms, toilets, kitchenettes, utility rooms consulting rooms, offices, shops, halls, landings and rooms that can only be used for storage such as cupboards.
Geographical Information Systems (GIS)
Due to changes to the fieldwork methodology, Census 2011 was the first census where each household and dwelling was linked to geographical co-ordinates (i.e. latitude and longitude or GPS co-ordinates). This methodology was also used in Census 2016. This linkage has the benefit of offering greater flexibility in the analysis of census data outside of the existing administrative boundaries. This analysis can be performed using a Geographical Information System (GIS).
GIS was used to calculate the straight-line distance of vacant houses and apartments, as well as one-off housing, from the nearest settlement. The methodology involved importing the co-ordinates of the relevant dwellings into a GIS, along with the digital boundaries of the Irish coastline and the 873 settlements identified in the Census 2016 Profile 2 - Population Distribution and Movements, to be published on 11 May 2017. GIS then calculated the straight-line distance of these points from the nearest digital boundary using specific tools.
Appendix 3
New questions and changes to previous questions
In advance of every census it is normal for the CSO to review the questions from the previous census with the aim of updating or deleting old questions, and adding new questions. The 2016 Census, for the first time ever, was run as a no-change census, meaning the questions on the form were the same as those used in 2011, with the exception of the question on marital status. In this question, a new category of 'In a registered same-sex civil partnership' was included to accommodate this new legal category. As the numbers are small, and to avoid disclosure, persons in this category are generally included with the category 'married' in cross-classifications. Same-sex couples who were married could simply select 'married'.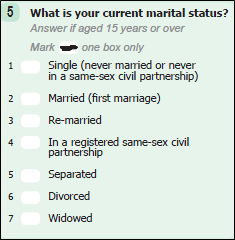 Link to the Census of Population 2016 form
---
[1] The Statistics (Census of Population) Order 2015 was made by the then Minister of State at the Department of the Taoiseach in pursuance of powers conferred on him by section 25 (1) of the Statistics Act 1993 (No. 21 of 1993) and the Statistics (Delegation of Ministerial Functions) Order 2011 (S.I. No. 157 of 2011).
Appendix 4
Census 2016 Publication Schedule
| | |
| --- | --- |
| Description | Publication Date |
| Preliminary Results | 14 July 2016 |
| Census 2016 Summary Results - Part 1 | 06 April 2017 |
| Profile 1 - Housing in Ireland | 20 April 2017 |
| Profile 2 - Population Distribution and Movements | 11 May 2017 |
| Census 2016 Summary Results - Part 2 | 15 June 2017 |
| Profile 3 - An Age Profile of Ireland | 06 July 2017 |
| Small Area Population Statistics (SAPS) | 20 July 2017 |
| POWSCAR - Research micro data file | 20 July 2017 |
| Profile 4 - Households and Families | 27 July 2017 |
| Profile 5 - Homeless Persons in Ireland | 10 August 2017 |
| Profile 6 - Commuting in Ireland | 31 August 2017 |
| Profile 7 - Migration and Diversity | 21 September 2017 |
| Profile 8 - Irish Travellers, Ethnicity and Religion | 12 October 2017 |
| Profile 9 - Health, Disability and Carers | 02 November 2017 |
| Profile 10 - Education, Skills and the Irish Language | 23 November 2017 |
| Profile 11 - Employment, Occupations and Industry | 14 December 2017 |
____________________________________________________
Interactive web tables will accompany each publication