From an estimated 352,000 secondary school students, 3,471 (1.0%) students completed the Phase 16 questionnaire of the CensusAtSchool survey. It was available between September 2016 and August 2017. The phase 16 questionnaire covered a variety of topics including:
UN Sustainable Development Goals
the level of recycling in households
the weight of school bags.
Interesting findings from Phase 16 results:
Students spent over 5 hours on their mobile per day. See Figure 1. Female students reportedly spent over an hour extra on a mobile than males on average. Male students reported that they spent 6 times longer than female students playing games on a PC or games console. See Figure 2.
In 2016, the vast majority of students carry their bag on both shoulders. See Figure 3. Comparing the data to phase 12 data (published in 2013), female students show almost no change in how they carry their school bag, however males are now more likely to carrying their school bag on two shoulders in 2016 than 2012. See Figure 4a and 4b.
A greater proportion of 6th year students (over 50%) responded with a high level of concern in relation to climate change. See Figure 5.
Irish students ranked the UN Sustainable Development Goal (SDG) "No Hunger" as the most important SDG goal to them. The least important goal was "Partnership For The Goals". See Table 1.
Students reported that over three quarters of their families engage in recycling. It is more popular than composting or using renewable energies. See Figure 6. Over a third of families engage in recycling alone (35%) and over a third (36%) engage in recycling and composting. See Figure 7.
Paper/Cardboard is the most popular item by families as reported by the students. See Figure 8.
The most popular method of composting is using the brown bin and the most popular source of renewable energy is solar. See Figure 9 and 10.
Over half of students (54%) reported that climate is the main factor when their family decide on a holiday destination with cost of the holiday coming close second (52%). See Figure 11.
Students were asked to indicate which colour was their favourite. Both male and female students selected blue as their preferred choice. See Figure 12a and 12b.
Students were asked to indicate what one word described how they felt at that moment. For female students the most popular term was "Tired". For male students the most popular term was "Happy". See Figure 13a and 13b.
Background information:
CensusAtSchool is a non-profit making international project. It is funded by organisations interested in promoting good use of statistics, mathematics and data handling. Ireland became involved in CensusAtSchool in 2009. Four Irish bodies are collaborating in this project:
the Professional Development Service for Teachers (PDST)
the CSO
Project Maths
the National Council for Curriculum and Assessment (NCCA).
The Irish website, www.censusatschool.ie, has been in place since 2009.
Background Notes
About CensusAtSchools
The Royal Statistical Centre for Statistical Education (RSSCSE) started the CensusAtSchool project in 2000 in conjunction with the Office of National Statistics (ONS) in the UK. The project, originally a one-off, was linked to the UK population census of 2001. It has now developed into a dynamic, on-going and exciting initiative running in a number of countries. Further information can be found here:
USA http://ww2.amstat.org/censusatschool/index.cfm
Canada http://www.censusatschool.ca/
Australia http://www.abs.gov.au/censusatschool
New Zealand http://new.censusatschool.org.nz/explore/
UK http://www.censusatschool.com/
Japan http://census.ism.ac.jp/cas/
Sample
3,471 secondary school attendees from 124 secondary schools completed the Phase 16 questionnaire of the CensusAtSchool survey between September 2016 and August 2017. Because the survey is voluntary and not part of a representative sampling process, the results of the survey are less reliable in providing inferences about the overall secondary school student population.
Questionnaire
The CensusAtSchool Phase 16 questionnaire and more results from the survey can be found on the CensusAtSchool website at http://www.censusatschool.ie/en/take-part/questionnaires
A data tool for examining international CensusAtSchool data can be found:
http://censusatschool.com/getmydata.php
http://new.censusatschool.org.nz/explore/
It can be further explored using the facilities inbuilt in the inZight site operated by Statistics New Zealand.
https://www.stat.auckland.ac.nz/~wild/iNZight/index.php
Map 1. Student participation in CensusAtSchool Phase 16 questionnaire classified by school's county‌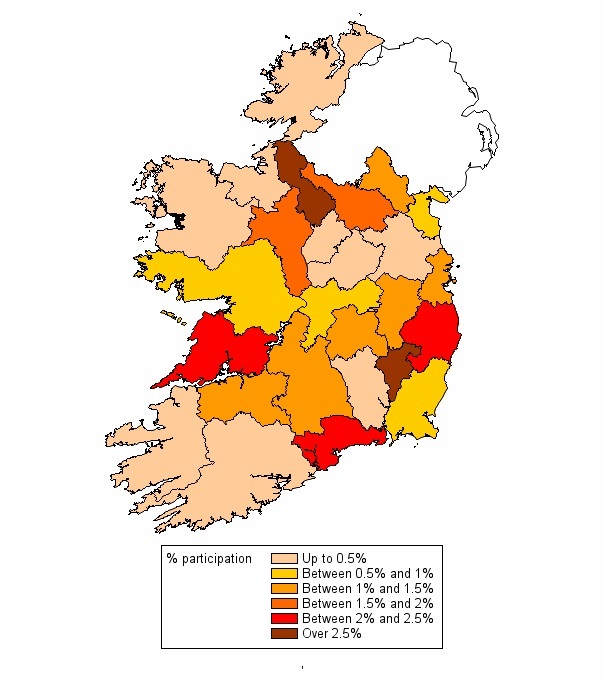 ‌‌
Note: The map only includes survey responses when the roll number on the questionnaire response matched a school roll number provided by the Department of Education and Skills.
Hide Background Notes