In preparation for Census 2021, a Census Pilot Survey took place on the 23rd of September, 2018 in selected areas around Ireland. A Census Pilot Survey report will be published in 2019.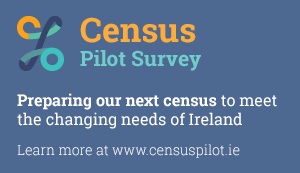 ‌
Census Pilot Survey website - click here to visit.
Frequently Asked Questions
What is the Census Pilot Survey?
The Census Pilot Survey is a small scale census that will test new questions and new enumerator technology for the next full census which takes place in 2021. The responses given in the questionnaire will directly inform decisions on how Census 2021 will look.
When is it taking place?
The Census Pilot Survey date is Sunday, September 23rd, 2018. Our enumerators will deliver forms to homes in participating areas before this date and collect them in the following weeks.
Where is it taking place?
The Census Pilot Survey form is being delivered to 15,000 homes in seven counties - Cork, Dublin, Galway, Louth, Offaly, Tipperary & Wicklow.
How were areas selected?
The CSO has chosen areas which broadly represent the population of Ireland. The Pilot is taking place in urban and rural areas, as well as areas with high and low levels of housing vacancy, and areas with higher proportions of non-Irish nationals.
What are the new questions?
New questions include childcare, smoking, volunteering and green energy, while changes are being made to existing questions such as Irish language and religion.
How did you pick the new questions?
The CSO held a consultation process in late 2017, inviting views on changes to the Census form. Over 400 submissions were received from members of the public, Government Departments, interest groups and other organisations. The new/changed questions proposed in these submissions were discussed, and narrowed down to the ones that appear on the pilot forms.
How often does the CSO run a Census Pilot?
Usually we run a Census Pilot between each census but there wasn't one between the censuses in 2011 and 2016. This meant that there were no new questions in Census 2016. The last Census Pilot was run in 2009, so in 2021, it will be 10 years since new questions were added.
Is my information secure?
Yes. We value and protect your information, and it is secure and protected by law. All staff involved in the Census Pilot Survey are Officers of Statistics and are legally bound by the Statistics Act 1993 to protect the confidentiality of your data. We are also GDPR compliant.
The CSO only publishes grouped anonymous data in the form of statistics.
Will I get to see the results of the Pilot?
Yes. We will publish a report on the outcome of the Census Pilot Survey, including findings on how the new questions have worked. This will be published in Q3 2019.