CSO statistical release
, 07 September 2017, 11am
Road Freight Transport Survey
2016
Road freight activity close to 2009 levels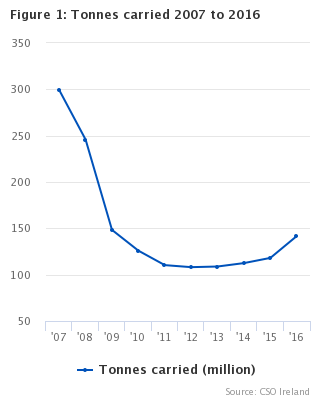 go to full release
All key road freight indicators increased substantially in 2016. The number of goods vehicles was up 13.3%. Laden journeys increased by 17.6%. Tonnes carried increased by 20.0%, vehicle kilometres by 19.7% and tonne-kilometres by 17.5%. See table A.
In 2016, there were 98,656 goods vehicles (over 2 tonnes unladen weight) on the roads. This was an increase of 13.3% on 2015. The number of larger vehicles over 10 tonnes unladen weight grew by 18.1% in the year. See table D.
Vehicles over 10 tonnes unladen weight accounted for one fifth of the overall fleet in 2016, but carried the lion's share of road freight activity. They accounted for 54.3% of all laden journeys, 86.7% of tonnes carried and 88.4% of tonne-kilometres.
In 2016, a total of 141.7 million tonnes of goods was transported by road. This was the highest level recorded since 2009 when 148.3 million tonnes were carried, but was still well below the peak figure of 299.3 million tonnes carried in 2007. See table A.
The distance covered by road freight transport was 1,558 million kilometres in 2016.
Activity measured as weight by distance, or tonne-kilometres, reached 11,564 million tonne-kilometres in 2016. Again, this was close to the 2009 level of 12,071 million tonne-kilometres but considerably below the 2007 peak in the series.
The type of work showing the greatest annual increase in tonnes carried in 2016 was Delivery of goods to road works or building sites. This category includes many building materials such as sand, gravel, cement and concrete. See table K.